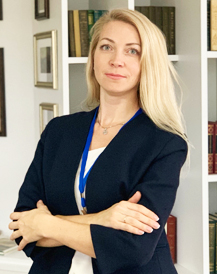 Evgeniya V. Volkova,
Head of the center
The Center was established on the basis of the Order of the Ministry of Education of the Russian Federation on February 18, 2004 No. 735 "On approving the list of educational organizations (institutions), which carry out state testing of the Russian language for foreigners and persons without citizenship to get the citizenship of the Russian Federation".
In its activities, the Testing Center is guided:
the center follows the laws and regulations of the Russian Federation;
regulatory documents of the Ministry of Education and Science of the Russian Federation;
regulations of the Center, TPU Charter, and other local regulations.
Services:
Complex examination in the Russian language, Russian history and the fundamentals of the legislation of the Russian Federation to get a work permit / patent, temporary residence permit, residence permit;
Test to get a Russian citizenship;
Test for foreign citizens to define their level of the Russian language proficiency.
Pay attention!
Students and residents of Lugansk and Donetsk regions have discounts.
Necessary documents:
Cooperation agreement (compiled at Testing Center);
Notarized copy of a translated passport or other documents proving the identity of a candidate;
Copy of a migration card;
Copy of an arrival notice (registration).
Documents for tests are admitted daily from 09.00 to 18.00.
You must have your passport at the exam!
The results of the exams and tests are ready in 2 working days.
Contact Information